We treat your child with the compassion and consideration they deserve. Our developmental/ behavioral pediatricians evaluate, counsel, and provide treatment for children and adolescents who have a wide range of developmental and behavioral difficulties. We work together with their families because we understand how families react to children with developmental disabilities.
Areas of Expertise and Service:
Medical management of attention and behavioral disorders of attention-deficit/hyperactivity disorder (ADD/ADHD) and associated conditions such as oppositional-defiant behavior, conduct problems, depression, and anxiety disorders
Medical management of tics, Tourette's syndrome, OCD, and other habit disorders
Learning Disorders such as dyslexia, writing difficulties, math disorders, other school-related learning problems (treatment and evaluation is provided after private or school academic and IQ testing scores have been completed)
Regulatory disorders including  sleep disorders, feeding problems, discipline difficulties, etc.
Developmental disabilities which include cerebral palsy, spina bifida, intellectual disability, autism spectrum disorders, and visual and hearing impairments
Delayed development of speech, language, motor skills, and thinking ability
---
How to Refer a Patient:
We are accepting new patients under the age of 16.  A referral from a pediatrician/primary care physician is required.  Referring providers should complete one of our Triage forms and include all requested and pertinent information.
Upon receipt of the referral, patients will be triaged individually to determine if Developmental Pediatrics is the most appropriate next step. After this process is completed, the parents will be notified by mail and informed of the next steps and what is required from them. Once all requested information is returned to our office, the parents will be called to schedule an appointment in our office.
Please note that Developmental Pediatrics is not psychiatry and we do not perform any counseling services nor provide any crisis services.
Once your patient has been seen, our provider's assessment will be sent to you for your records and any additional follow up.
Ways to refer include:
Submitting an electronic referral via the Infina Network
Faxing the Referral Form to 919-788-8986
Calling the office at 919-782-3456 with any questions regarding the referral process
My Child…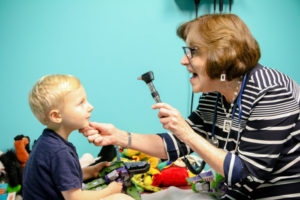 Our young son's teacher reached out to let us know she had some concerns about his progression and attention in school. After a meeting with the school, they directed us to speak with our pediatrician. The pediatrician met with us and after hearing our concerns, recommended we see a Developmental Pediatrician at Raleigh Neurology. The referral was submitted and RNA contacted us regarding the information they needed to get our son scheduled. It takes a bit of time to get in but it is well worth it.
Once our son was seen, his doctor was able to determine that he did have ADHD. We were able to test out a medication and found it to be immediately effective. My son went from being anxious and disconnected to being able to engage, focus and be an active participant in his class and his life.