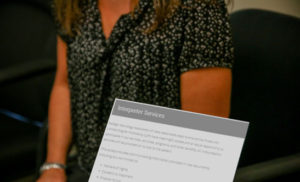 Raleigh Neurology Associates will take reasonable steps to ensure that those with Limited English Proficiency (LEP) have meaningful access and an equal opportunity to participate in our services, activities, programs, and other benefits. All interpretation services will be provided at no cost to the patient.
This access includes communicating information provided in vital documents, including but not limited to:
Waivers of rights
Consent to treatment
Financial forms
Insurance benefit forms
We are proud to partner with AMN Healthcare (formerly Stratus/InDemand), a video on demand (VOD) technology, to ensure we are best able to serve all our patients in the most meaningful manner possible.
Language assistance will be provided through use:
Technology and telephonic interpretation services.
Competent bilingual staff
Formal arrangements with local organizations providing interpretation or translation services where deemed necessary depending on the medical service being provided
Some LEP persons may prefer or request to use a family member or friend as an interpreter. However, family members or friends of the LEP person will not be used as interpreters unless specifically requested by that individual and after the LEP person has understood that they have been offered an interpreter at no charge.
If the LEP person chooses to use a family member or friend as an interpreter, issues of competency of interpretation, confidentiality, privacy, and conflict of interest will be considered. If the family member or friend is not competent or appropriate for any of these reasons, competent interpreter services will be provided to the LEP person.
Children and other clients/patients/residents will not be used to interpret, in order to ensure confidentiality of information and accurate communication.
Arabic
ملحوظة: إذا كنت تتحدث اذكر اللغة، فإن خدمات المساعدة اللغوية تتوافر لك بالمجان. اتصل برقم -919.782.3456 (رقم هاتف الصم والبكم: –

---
Cambodian
ប្រយ័ត្ន៖ បើសិនជាអ្នកនិយាយ ភាសាខ្មែរ, សេវាជំនួយផ្នែកភាសា ដោយមិនគិតឈ្នួល គឺអាចមានសំរាប់បំរើអ្នក។ ចូរ ទូរស័ព្ទ 919.782.3456។
---
Chinese
注意:如果您使用繁體中文,您可以免費獲得語言援助服務。請致電 919.782.3456。
---
French
ATTENTION : Si vous parlez français, des services d'aide linguistique-vous sont proposés gratuitement. Appelez le 919.782.3456.
---
German
ACHTUNG: Wenn Sie Deutsch sprechen, stehen Ihnen kostenlos sprachliche Hilfsdienstleistungen zur Verfügung. Rufnummer: (919) 782-3456.
Gujarati
સુચના: જો તમે ગુજરાતી બોલતા હો, તો નિ:શુલ્ક ભાષા સહાય સેવાઓ તમારા માટે ઉપલબ્ધ છે. ફોન કરો (919) 782-3456.

---
Hindi
ध्यान दें: यदि आप हिंदी बोलते हैं तो आपके लिए मुफ्त में भाषा सहायता सेवाएं उपलब्ध हैं। (919) 782-3456 पर कॉल करें।
---
Hmong
LUS CEEV: Yog tias koj hais lus Hmoob, cov kev pab txog lus, muaj kev pab dawb rau koj. Hu rau (919) 782-3456.
---
Japanese
注意事項:日本語を話される場合、無料の言語支援をご利用いただけます。(919) 782-3456. まで、お電話にてご連絡ください。
---
Korean
주의: 한국어를 사용하시는 경우, 언어 지원 서비스를 무료로 이용하실 수 있습니다. (919) 782-3456 번으로 전화해 주십시오.
---
Lao
ໂປດຊາບ: ຖ້າວ່າ ທ່ານເວົ້າພາສາ ລາວ, ການບໍລິການຊ່ວຍເຫຼືອດ້ານພາສາ, ໂດຍບໍ່ເສັຽຄ່າ, ແມ່ນມີພ້ອມໃຫ້ທ່ານ. ໂທຣ (919) 782-3456.
---
Russian
ВНИМАНИЕ: Если вы говорите на русском языке, то вам доступны бесплатные услуги перевода. Звоните (919) 782-3456.
---
Spanish
ATENCIÓN: si habla español, tiene a su disposición servicios gratuitos de asistencia lingüística. Llame al 1- (919) 782-3456.
---
Tagalog
PAUNAWA: Kung nagsasalita ka ng Tagalog, maaari kang gumamit ng mga serbisyo ng tulong sa wika nang walang bayad. Tumawag sa (919) 782-3456.
---
Vietnamese
CHÚ Ý: Nếu bạn nói Tiếng Việt, có các dịch vụ hỗ trợ ngôn ngữ miễn phí dành cho bạn. Gọi số (919) 782-3456.