Our new, state-of-the-art Pain Management Clinic at Raleigh Neurology provides comprehensive management for chronic and episodic pain. Clinic physicians are board-certified in anesthesiology, neurology and pain management, placing them in the unique position to provide diagnosis and treatment for any source of pain, from degenerative diseases to migraines.
We are able to augment clinical treatments with interventional procedures such as guided injections utilizing our C-Arm X-ray or ultrasound machines.
For our patients who need immediate attention, we provide a "fast-track" to care so they are seen quickly, without long waits.
Areas of Expertise and Service:
Headaches/Migraines
Degenerative Disc Disease
Spinal Headaches
Scoliosis
Trigger Points
Post-surgical Pain
Nerve Pain
Radio Frequency Ablations
Spinal Cord Stimulator Trials
---
How to Refer a Patient:
Patients of the Pain Center may be referred from another provider or may contact RNA directly to schedule an appointment. There are certain cases where a referral may be necessary. We are happy to review your specific situation and help determine next steps. We do request any background and pertinent office notes to ensure high-quality service. Additionally, we can coordinate with referring providers to provide any follow-up needed for treatment.
Ways to refer include:
Submitting an electronic referral via the Infina Network
Faxing the Referral Form to 919-420-1686
Calling the office at 919-782-3456 with any questions regarding the referral process
Patient Story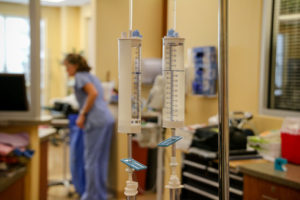 Proin commodo, urna ac consequat ullamcorper, magna est vestibulum sem, non convallis lectus nisi eget massa. Ut at metus lectus. Nunc porttitor tincidunt tellus. Vestibulum aliquam luctus metus. Cras nec ultrices tellus. Pellentesque sit amet nisi euismod, tincidunt eros vitae, gravida nibh. Aliquam non nisl et lorem dignissim eleifend. Integer bibendum ipsum ut arcu
Read More