Click any button below to learn more about current studies in a given area!
We believe clinical trials are very important: They give patients access to promising medications and help advance the approval process.
The Clinical Research Center at Raleigh Neurology Associates has been a key player in the development and consequential approval of many treatment options available today. The ability to offer our patients unique and cutting-edge treatment options not only helps them, but also aids future generations once the treatment is approved and available in the open market.
We have 80-100 clinical trials in Phase II, III or IV of development at any given time in all neurological indications, including MS, Parkinson's Disease and Alzheimer's Disease, sleep medicine, migraine and stroke.
Our experienced nurse coordinators provide personalized care for all patients. We walk our patients through every visit of the trial—our priority is to keep our patients comfortable and well-informed throughout the entire trial process.
All aspects of the treatment are paid by the pharmaceutical company for the duration of the trial. RNA is a partner site with IQVIA and is a Syneos Health Research Site Partner and award winner.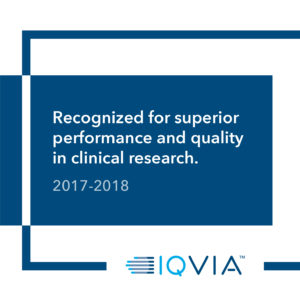 Areas of Expertise and Service:
Alzheimer's Disease
Headache/Migraine
Multiple Sclerosis
Sleep Medicine
Pediatric Neurology
Parkinson's Disease
Seizures/Epilepsy
Stroke
How to Enroll:
Patients can enroll in a clinical trial by asking their neurologist if they qualify for a current study. Also, our professional nurse coordinators may contact patients directly if a trial looks like it would be a good treatment option. Another way to access clinical trials is to contact the research center directly or search www.clinicaltrials.gov
If you have any questions, please contact us at (919) 719-8826 for more information.
Follow Clinical Research on: