Our infusion suites, located in Raleigh and Durham, are among the nation's top private practice centers. Since 2002, Raleigh Neurology Associates has been proud to offer specialized, cutting edge infusion therapy treatments for our patients.
Our sophisticated infusion suites feature comfortable recliners, handicapped-accessible restrooms and soothing natural light from many windows. Patients can easily talk with other patients, watch television, or use their laptop or mobile device during treatment. Flexible scheduling prevents unnecessary hospitalizations, allowing patients to participate in their normal, daily activities as much as possible.
A neurologist is on-site in case a patient's therapy needs adjustment. In addition, we have special certifications and credentials in the management of multiple sclerosis, infusion and safety.
Highly skilled and experienced infusion therapy nurses provide patients with the convenient, quality care they deserve. These nurses have extensive knowledge and resources for patient education and caregiver support.
We offer comprehensive treatment for a wide range of conditions, including—but not limited to—those listed below. If you have questions about a condition we may treat or you'd like more information, please contact us.
Areas of Expertise and Service:
Headache/Migraine
Multiple Sclerosis
Optic Neuritis
CIDP (Chronic Inflammatory Demyelinating Polyneuropathy)
Myasthenia Gravis
GBS (Guillain-Barre Syndrome)
---
How to Refer a Patient:
Infusion services require insurance authorization, which is handled by the team at Raleigh Neurology Associates in conjunction with the ordering provider. If you have any questions regarding our infusion services, please contact us at 919-782-3456.
Patient Story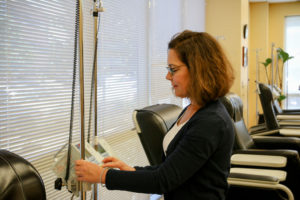 Proin commodo, urna ac consequat ullamcorper, magna est vestibulum sem, non convallis lectus nisi eget massa. Ut at metus lectus. Nunc porttitor tincidunt tellus. Vestibulum aliquam luctus metus. Cras nec ultrices tellus. Pellentesque sit amet nisi euismod, tincidunt eros vitae, gravida nibh. Aliquam non nisl et lorem dignissim eleifend. Integer bibendum ipsum ut arcu
Read More