Raleigh Neurology Associates offers a full service Rheumatology Department, led by Dr. Mary Anne Dooley.  We treat many conditions, including but not limited to, those listed below:
Ankylosing spondyloarthritis
Behçet's disease
Dermatomyositis
Giant Cell Arteritis
Gout
IgG4-Related Disease (IgG4-RD)
Inflammatory Myopathies
Myositis
Osteoarthritis
Osteoporosis
Osteoporosis Glucocorticoid-induced
PMR Polymyalgia Rheumatica
Primary angiitis of the central nervous system
pseudo gout CPPD
Psoriatic Arthritis (PsA)
Raynaud's Phenomenon
Reactive Arthritis
Relapsing polychondritis
Rheumatoid Arthritis
Scleroderma
Sjogren's syndrome
SLE Drug induced lupus
SLE lupus nephritis
SLE Systemic lupus
Spondyloarthritis
Takayasu's arteritis
Tendinitis & Bursitis
Vasculitis Cryoglobulinemic vasculitis
Vasculitis Anti-GBM disease (Goodpasture's)
Vasculitis ANCA-associated vasculitis (former name: Wegener's granulomatosis) or Granulomatosis with polyangiitis GPA
IgA Vasculitis (Henoch-Schönlein)
Vasculitis Drug-induced
Vasculitis Eosinophilic granulomatosis with polyangiitis (Churg-Strauss)
Vasculitis polyangiitis PAN Polyarteritis nodosa
Additionally, Dr. Dooley offers a one time consultation for the following conditions, but does not offer ongoing care for these:
Fibromyalgia
Psoriasis skin disease (Dr. Dooley does NOT treat Psoriatic Arthritis)
Hypermobility – Ehlers-Danlos Syndrome or Marfan's Syndrome
Dr. Dooley does NOT see Workman's Comp cases, Post Op joint replacement patients, all over chronic pain patients, or patients with Reflex Sympathetic Dystrophy (RSD).
Please call 919-782-3456 for further information or clarification.
---
How to Refer a Patient:
Our Rheumatology Department does not require a referral unless it is required by a patient's specific insurance plan; however, we do request any background and pertinent office notes prior to the visit. This enables us to provide the most meaningful initial consultation possible. After the appointment, our assessment will be sent to your referring or primary care provider for inclusion in your record and any needed additional follow-up.
Ways to refer include:
Submitting an electronic referral via the Infina Network
Faxing a referral to 919-783-1441
Calling the office at 919-782-3456 with any questions regarding the referral process
Patient Story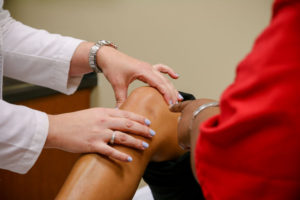 Proin commodo, urna ac consequat ullamcorper, magna est vestibulum sem, non convallis lectus nisi eget massa. Ut at metus lectus. Nunc porttitor tincidunt tellus. Vestibulum aliquam luctus metus. Cras nec ultrices tellus. Pellentesque sit amet nisi euismod, tincidunt eros vitae, gravida nibh. Aliquam non nisl et lorem dignissim eleifend. Integer bibendum ipsum ut arcu
Read More