Raleigh Neurology Associates has offered comprehensive neurological care in the Triangle area since 1983. In 2015, we added rheumatology to our service offerings to serve an unmet need in the community. We integrate world-class medical care with comprehensive services, including an on-site infusion suite to treat a variety of rheumatic diseases.
Patients also have an opportunity to access the most recent and innovative technologies through our active clinical research program that participates in international trials to evaluate new medications and treatment options.
Our treatment area include—but are not limited to—the list below. Please call us if you need more detailed information on the conditions we treat.
Areas of Expertise and Service:
Rheumatoid Arthritis
Psoriatic Arthritis
Lupus
Sjögren's syndrome
Mixed Connective Tissue Disease
---

How to Refer a Patient:
A referral to rheumatology is not needed unless it is required by a patient's specific insurance plan. However, we do request any background and pertinent office notes prior to the initial visit to provide the most meaningful initial consultation possible. Once a patient has been seen, our provider's assessment will be sent to his or her primary care physician for their records based on the patient's specific direction
Ways to refer include:
Submitting an electronic referral via the Infina Network
Faxing the Referral Form to 919-420-1686
Calling the office at 919-782-3456 with any questions regarding the referral process
Patient Story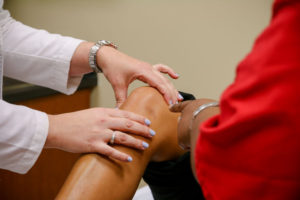 Proin commodo, urna ac consequat ullamcorper, magna est vestibulum sem, non convallis lectus nisi eget massa. Ut at metus lectus. Nunc porttitor tincidunt tellus. Vestibulum aliquam luctus metus. Cras nec ultrices tellus. Pellentesque sit amet nisi euismod, tincidunt eros vitae, gravida nibh. Aliquam non nisl et lorem dignissim eleifend. Integer bibendum ipsum ut arcu
Read More