Our physicians and specialists are trained to evaluate and treat concussion-related injuries. We also provide specialized testing to determine when it is appropriate for athletes to return to play after a concussion. The expertise of our staff, coupled with our state-of-the-art equipment, are essential to ensure that athletes return safely to play without being at high risk for a second concussion.
Concussion is a clinical syndrome of biomechanically induced alteration of brain function, typically affecting memory and orientation, which may involve loss of consciousness (LOC).
Signs and symptoms of a concussion are not always evident, which can make it difficult to determine when it is safe to resume play. It's vital for patients to be evaluated by an experienced neurologist— returning to the game too soon can expose the player to a second concussion and more severe brain injury.
While concussions in sports are common, it is important to make sure that an injured athlete is completely ready before returning to play. Our focus is to provide quality care and exceptional service, because we know the importance of feeling confident when returning athletes to the playing field.
This means there's no substitute for experienced, compassionate, quality-driven care by neurologists who are leading experts in evaluating and treating concussions.
Our physicians and specialists are trained to evaluate and treat all types of concussion-related injuries. Our focus is to provide quality care and exceptional service because we want athletes to return to the field safely and with confidence.
We also offer and perform baseline studies for concussion. A baseline assessment before a head injury enables us to efficiently compare pre- and post- injury results, enabling us to provide the most beneficial rehabilitation possible.
Many parents are concerned with the possibility of a concussion happening and have requested this prior to their child beginning a sport. Many school systems are also in the process of considering this as a routine part of a child being cleared to begin playing school sports.
While insurance will typically not cover the cost of a baseline assessment, we offer the following convenient and affordable fee structure:
$50 per individual for single participants
$40 per individual for 2-3 individuals testing together
Group/team pricing available for 4+ individuals testing together (contact us for rates)
Areas of Service/Testing:
Sensory Organization Test (SOT)
Dynamic Visual Acuity (DVA)
Gaze Stabilization (GST)
Head Shake SOT
Impact (age 11 and up)
Pediatric Impact (5-11 years old)
CNS Vital Signs
---

How to Refer a Patient:
To make an appointment for a concussion assessment, management, or baseline testing, during regular office hours, please call our office at 919-782-3456. If it is after hours, coaches are welcome to call 919-795-7173. Once a patient has been seen, our provider's assessment will be sent to the Primary Care Provider of record for their records and any additional follow up. We will also complete any required return to play forms necessary.
Other way to refer include:
Submitting an electronic referral via the Infina Network
Faxing the Referral Form to 919-788-8986
Patient Story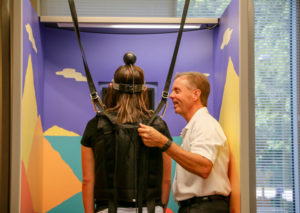 Proin commodo, urna ac consequat ullamcorper, magna est vestibulum sem, non convallis lectus nisi eget massa. Ut at metus lectus. Nunc porttitor tincidunt tellus. Vestibulum aliquam luctus metus. Cras nec ultrices tellus. Pellentesque sit amet nisi euismod, tincidunt eros vitae, gravida nibh. Aliquam non nisl et lorem dignissim eleifend. Integer bibendum ipsum ut arcu Proin commodo, urna ac consequat ullamcorper, magna est vestibulum sem, non convallis lectus nisi eget massa. Ut at metus lectus. Nunc porttitor tincidunt tellus. Vestibulum aliquam luctus metus. Cras nec ultrices tellus. Pellentesque sit amet nisi euismod, tincidunt eros vitae, gravida nibh. Aliquam non nisl et lorem dignissim eleifend. Integer bibendum ipsum ut arcu